The largest startup events in America
Providing the resources, networks and live experiences that help startups thrive
New York
November 15th, 2022 | 10AM - 5PM
Jacob Javits Convention Center
UPCOMING EVENTS
UPCOMING EVENTS
New York
November 18th, 2022 | 8AM - 5PM
237 Park Avenue
Miami
December 16th, 2022 | 8AM - 5PM
400 SE 2nd Ave
Tech Day is an award winning series of events, connecting tech-enabeled startup founders with essential resources, education, and community at live single day conferences, tradeshows, and year-round digital learning centers.
Founded more than a decade ago, TechDay is recognized as the market's biggest, most impactful series of events devoted exclusively to the needs of technology based startups.
Over 10,000 startups have participated in TechDay events, connecting with over 250,000 investors, accelerators, engineers, suppliers and other members of the tech startup ecosystem.
At TechDay, you can get your startup in front of investors, press and early adopters. Beyond having a booth, presenting on our main stage is a great opportunity to elevate your presence and put your startup in the spotlight. Before you go out on stage you can join us at a mentorship session where investors, mentors, and colleagues will provide you with feedback to help you perfect your pitch.

TechDay attracts investors from all parts of the world in search of companies poised to revolutionize markets. We've hosted some of the largest venture firms in the world, as well as corporate venture funds, accelerators and hundreds of angel investors.

Together, TechDay's investor community comprises a massive $230 billion in capital under management ready to be deployed.

Since the event's inception in 2012, TechDay Expo startups have repeatedly reported placement in their rounds from investors they've met at TechDay events - and TechDay investors praise the event for the massive increase in deal flow it affords.

New Yorkers love to be on the cutting edge. And no one in New York likes that more than tech enthusiasts who are eager to see, use, and engage with the newest products, services, and platforms available. Connect with the TechDay audience and find new customers, and expand you company's brand awareness.

TechDay is a great way to discover new platforms and introduce your own. It's a great opportunity to form strategic partnerships with emerging companies and meet potential acquisition targets.

Attending the annual TechDay New York Expo will give you an exclusive look into today's latest and greatest tech with direct access to the startups & partners making it all happen. Join thousands of your peers to learn about new technologies, discover job opportunities, and to network with the New York City tech ecosystem. Surveys reveal that 45% of our companies are hiring and 30% of attendees discover new career opportunities.

Organizations that offer services, products, and resources that help startups accelerate their growth and success are welcome as sponsors of The TechDay Expo, and the TechDay Founders Summit. Sponsorships can include opportunities to demonstrate thought leadership, increase brand awareness, and develop new business opportunities. To learn more either complete the inquiry form at the bottom of this page, or schedule a quick call with Walter Charnizon, TechDay President, here.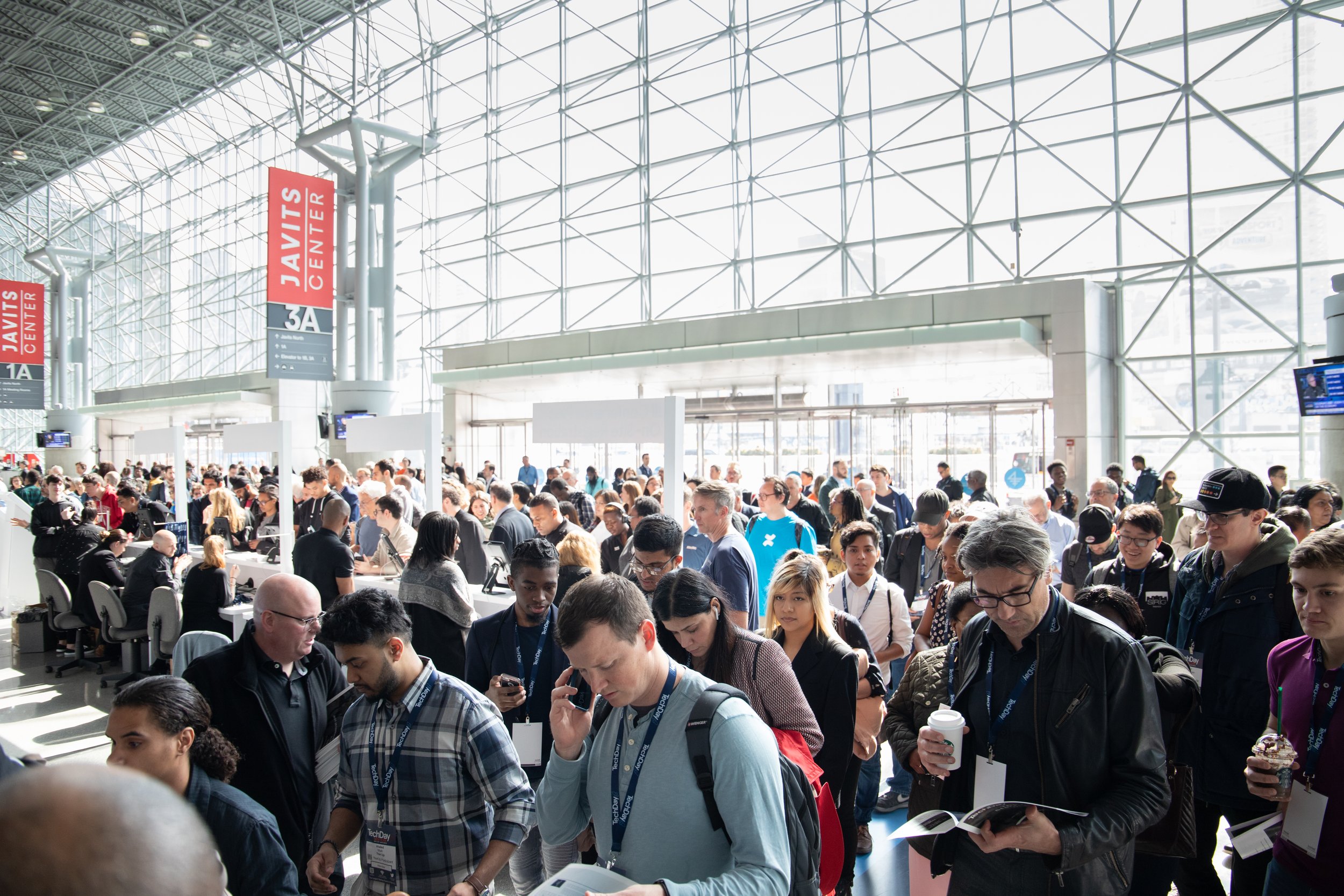 At TechDay you could have discovered these startups …
before they became unicorns.
TechDay events have given startup founders access to investors, talent, corporates, and customers for over a decade:
85%
said they were certain to implement what they learned; nearly half planed to do so within a few days of the event
93%
are very likely /certain to recommend the event to other founders
93%
of the founders in attendance rated the overall event experience as great or excellent
What TechDay Exhibitors Have to Say
TechDay is one of our favorite events of the year! It draws a great crowd of tech enthusiasts giving us an opportunity to showcase our powerful shared ride technology (what better way to get home from the event?) to potential members and prospective hires. It's a must for us, year after year.
Via
TechDay easily provided my company with more connections in a few hours than we had made in months. It was a fantastic opportunity to meet people who are as passionate about innovation as we are. We were not only able to meet, but we got to pitch to some of the most relevant people in both our specific industry and the startup community as a whole.
Ruvna
Apart from the exposure, TechDay gave us the chance to get the validation we were hoping for double our user base, and connect us with some great contacts that are developing into big partnerships. My calendar has been booked full with calls and meetings the past few weeks from contacts made at TechDay alone. This is the first day I haven't had back to back meetings. I lost count of all of the resumes we've received. Overall it was exactly what we needed.
Dreamermade
Frequently Asked Questions
All attendees, including speakers, staff, and sponsors must provide proof of Covid-19 vaccination before entering the event. TechDay Founders Summit adheres strictly to all of the covid protocols put in place by the host venue, Convene. No one will be allowed into the event without showing proof of vaccination.

Right now, we host events in New York, Los Angeles, Miami and London. We will expand to more cities soon.
Contact us.

Phone
+1 (646) 373-4880
E-mail
outreach@techdayhq.com